Creating and managing upsells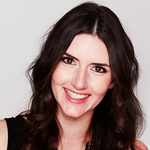 Updated by Kerry
What is an Upsell?  
Upsells prompt customers to add more menu items to their order. Such as the "Grab a drink 🍷" upsell group shown here on all food items.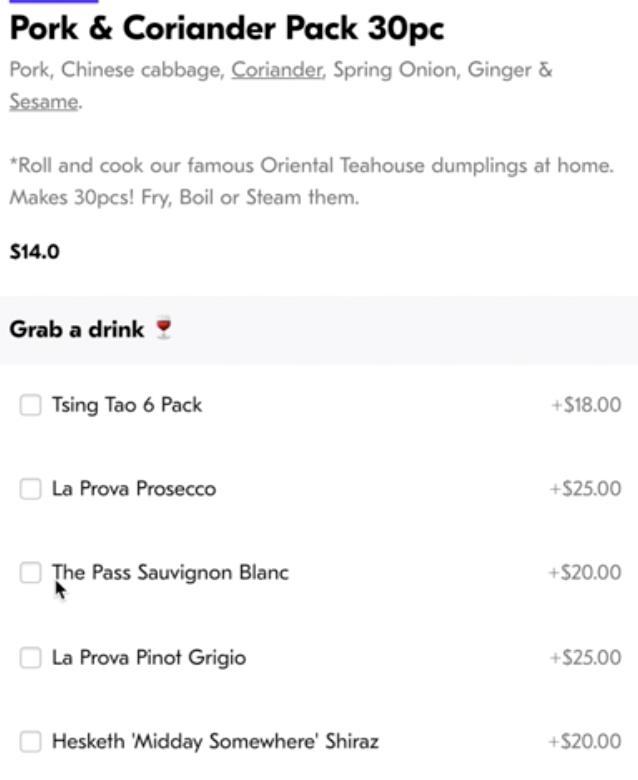 It's a good idea to pair snack upsells with drinks, drinks or dessert upsells with food items and pair sides upsells with mains.
Upsells increase your average sale significantly. Spending some time on these could earn you many thousands of more dollars. It's worth the effort! 💰
Upsells are different to modifiers as while upsells add additional menu items, modifiers typically add/remove ingredients or variations to the actual menu item they're attached to. 
How to create upsells
Go to Your Menu > Upsells.
Click on the New Upsell Group button.
Type in the name of the Upsell Group. For example, "Grab a Drink 🍹".

Here is some upsell group naming inspo for you:

Pairing menu items with drinks upsells - "Grab a Drink? 🥤" or "Thirsty?" 
Pairing menu items with sides or snacks upsells - "Grab a side?" or "Still Hungry?"
Pairing drink items with snacks or sides - "Peckish?"
Pairing main menu items with dessert - "There's always room for dessert! 🍧" 

Leave all the default settings as per below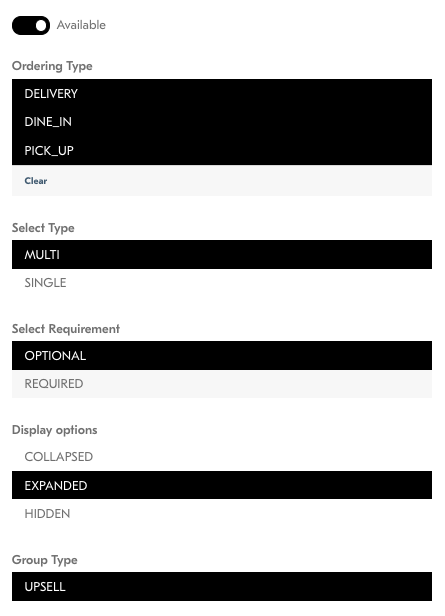 Multi means that customers can choose more than one item. 
Optional means that customers are not required to choose an upsell if they don't want to.
Select Display Options whether the list of upsells would be Collapsed, Expanded or Hidden.

Collapsed: A drop list occurs when this option is selected. It is ideally used to make the menu item look neater. It can be selected when selecting dietary requirements.
Expanded: A visible list where the customer can choose what they want and select from the relevant options.
Hidden: The upsell is hidden from the menu but is visible when the receipt has been printed in the kitchen. Commonly used for set menu's.

For a group to be hidden, upsell must be required and have a single selection

Group Type should be UPSELL.
Minimum Quantity and Maximum Quantity should remain 0.
Has pre-selected option toggle should be off.
Respect cart quantity toggle should be off unless you're creating a combo. 

It means that if the customers orders two of an item, and add an upsell, it will only add 1 upsell item and not 2. 
For example, if you add 2 beers, and then select a fries upsell, it will only add 1 fries and not 2. 
This function is primarily used for combo deals where you want the quantity of both items within the deal to respect the cart quantity.
Add items to upsell groups
Click New Upsell Item.
Type in and select the menu item you wish to add.
Copy the name into the "Upsell Item Name" field  - this will be the name that appears on the upsell list. You may decide to change or modify the name, such as include more information, e.g. add dietary info, quantity etc. 
Toggle on Show Full Price - this makes sure that the price is shown on the upsell list
Position is the order in which the upsell item is positioned in the group. If you enter 1 it will be the first item in the group, 2 will be the second item to appear in the group, etc. 
Click Create.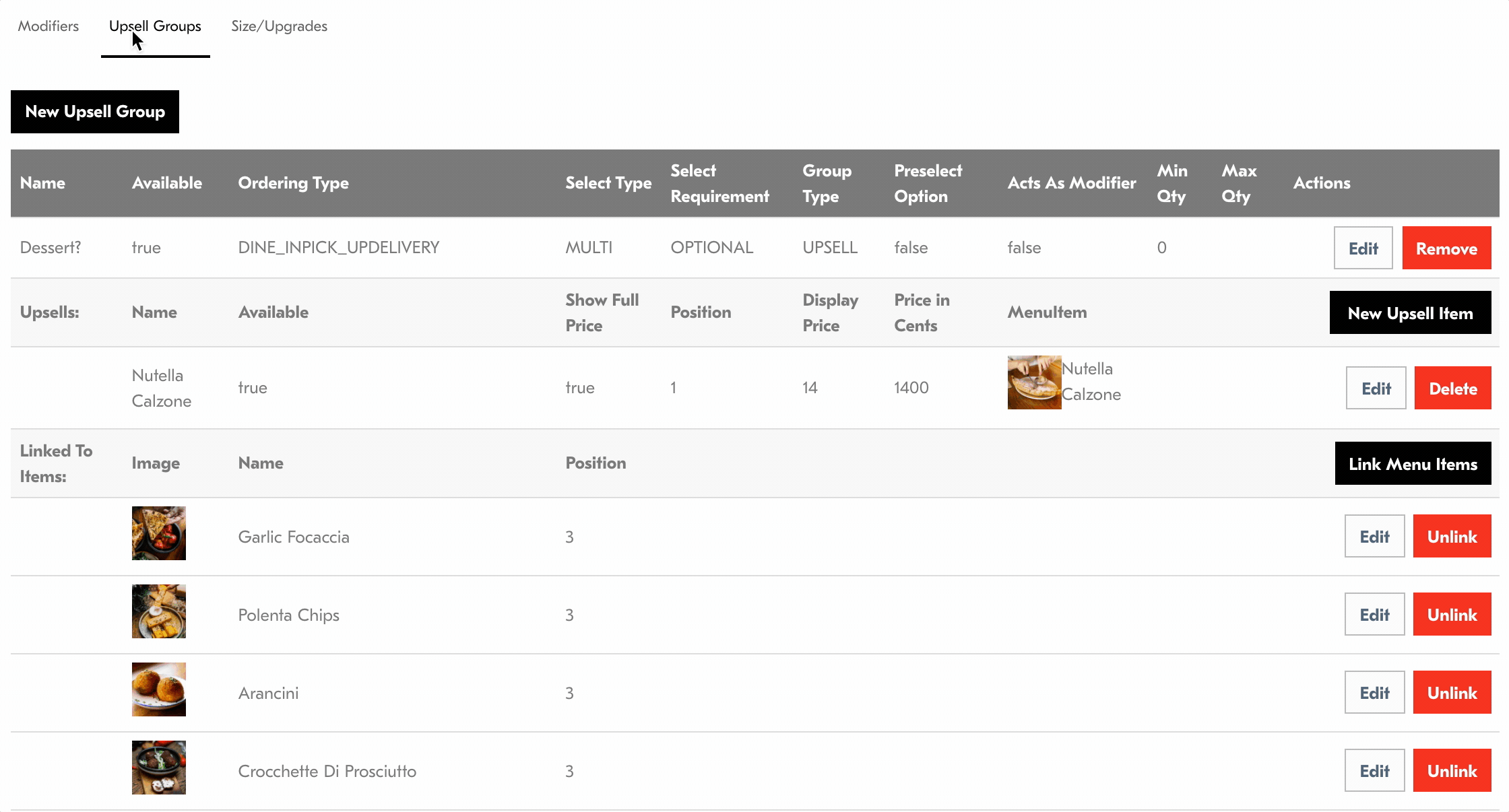 Link the upsell groups to menu items
Click Link Menu Items.
Search and tick all menu items that you wish the upsell group to appear on. 
The only menu items that will be shown here are the items that aren't already linked to that upsell group.
The Position is the order in which this upsell group appears on each menu item it is linked to. This is important if you have multiple modifiers and upsell groups e.g, cooking-style modifier group and a drink upsell group and a dessert upsell group for the same menu items. 

If you want the upsell group to appear on the bottom of any other modifier or upsell group, enter a higher number such 6, and if you want the upsell item above the other groups make sure the number is lower than the others e.g. 3,4 to appear after modifier groups for example.

Click Create or hit Enter.
You can change the position by clicking the edit button next to the linked menu items and changing the number.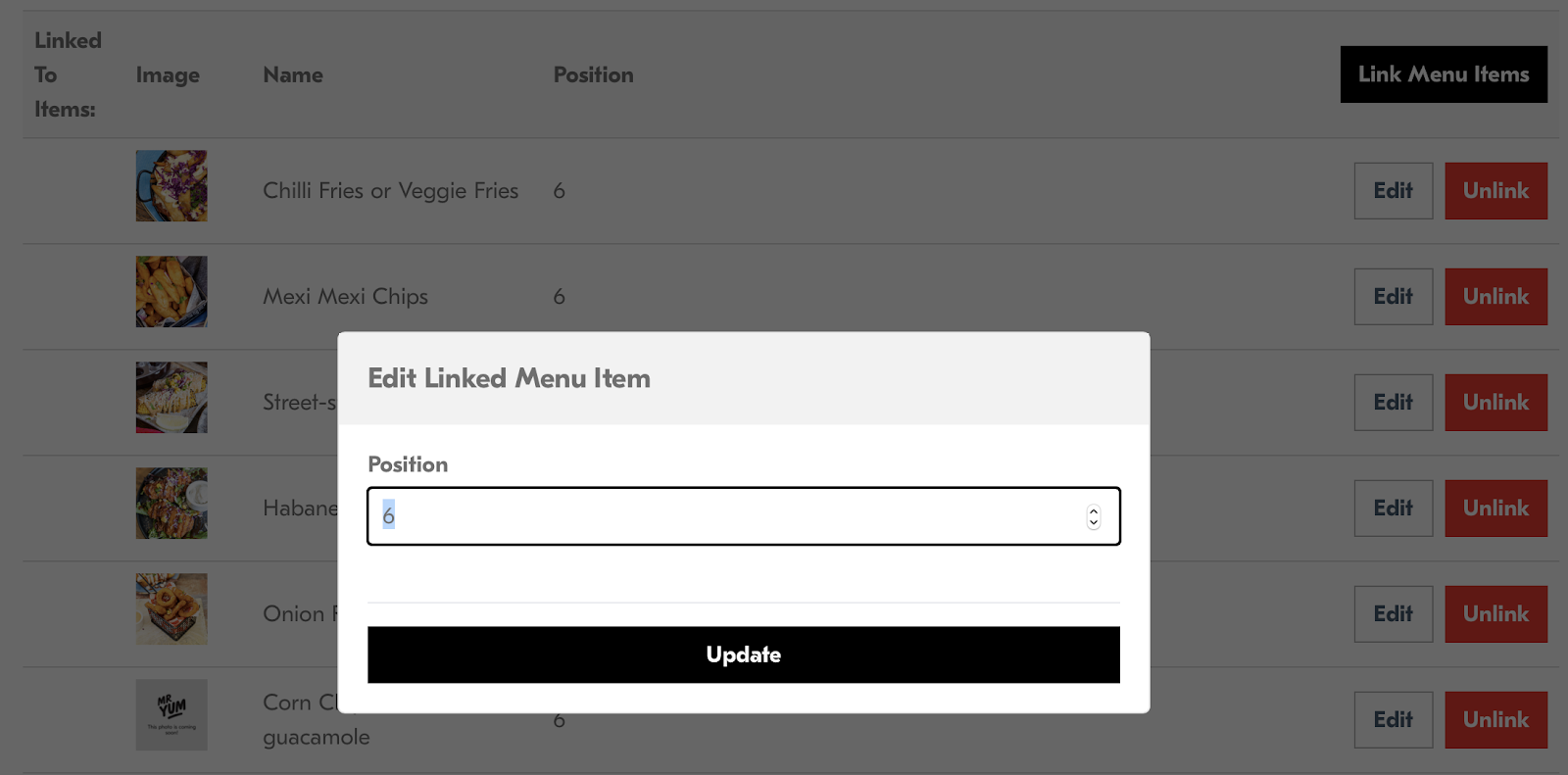 If changes do not appear on your menu refresh the page. 🌟
Watch a video walk-through of these steps